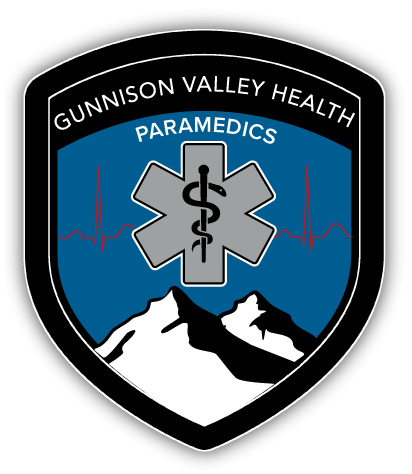 We provide 24/7 emergency medical care in Gunnison County.
Gunnison Valley Health Paramedics is located in the heart of the Rocky Mountain range and southwest of Denver, Colorado, Gunnison Valley Health Paramedics covers a response service area of 4,400 square miles – an area nearly twice the size of Delaware!
Our service area includes Gunnison County, a large portion of Saguache County, and small sections of Hinsdale Counties. We also assist Hinsdale County, backing up the Lake City all-volunteer based emergency medical services team.
You never know when you may need us,
but we are
here for you.
Gunnison is situated near Blue Mesa, Colorado's largest reservoir, with the town elevation over 7,700 feet. Gunnison County is seated at the bottom of several valleys, giving it a unique geography that makes it one of the coldest locations in the nation.
Our district is comprised of varied terrain, ranging from the low valley, high desert landscape, with sprawling sagebrush and vast exposure, to the winding, steep river canyons, to the forested mountainsides, up to the high alpine peaks. As such, Gunnison Valley Health Paramedics are prepared to properly respond to medical emergencies in all weather extremes and terrains.
An award-winning ambulance service.
In 2020, Gunnison Valley Health Paramedics (formerly Gunnison Valley Health EMS) was named Colorado's Ambulance Service of the Year and recognized by the State as "an ambulance service which has become a leader in patient care, medical control, quality assurance, public education, public access, training and education."
The emergency medical services direction is led by physician Dr. Shay Krier who has also been recognized by the state of Colorado and awarded the 2020 Dr. Valentin E. Wohlauer Award for Physician Excellence in EMS. This is presented to a physician who has made a substantial contribution to the advancement of EMS in Colorado.
Gunnison Valley Health Paramedics supports the Gunnison Volunteer Fire Department, Crested Butte Fire Department, Gunnison Police Department and Gunnison County Sheriff Department and many other federal agencies. We also work closely with the Crested Butte Fire Protection District Paramedics serving Crested Butte, Mt. Crested Butte and CB South on mutual aid emergencies, a regular occurrence during peak summer and winter seasons.
Today, Gunnison Valley Health Paramedics is the largest, most stable 24/7 response group within the Gunnison region with 21 full-time employees and another 15 PRN responders as needed.
The team responds to approximately 1,500 calls per year and have experienced more than a 10 percent increase in volume year-over-year since 2017. This rapid expansion is caused by increased tourism in the region, as well as expanded service lines including critical care level interfacility transports to larger metropolitan hospitals outside Gunnison County.
We cover the largest response district in Colorado!